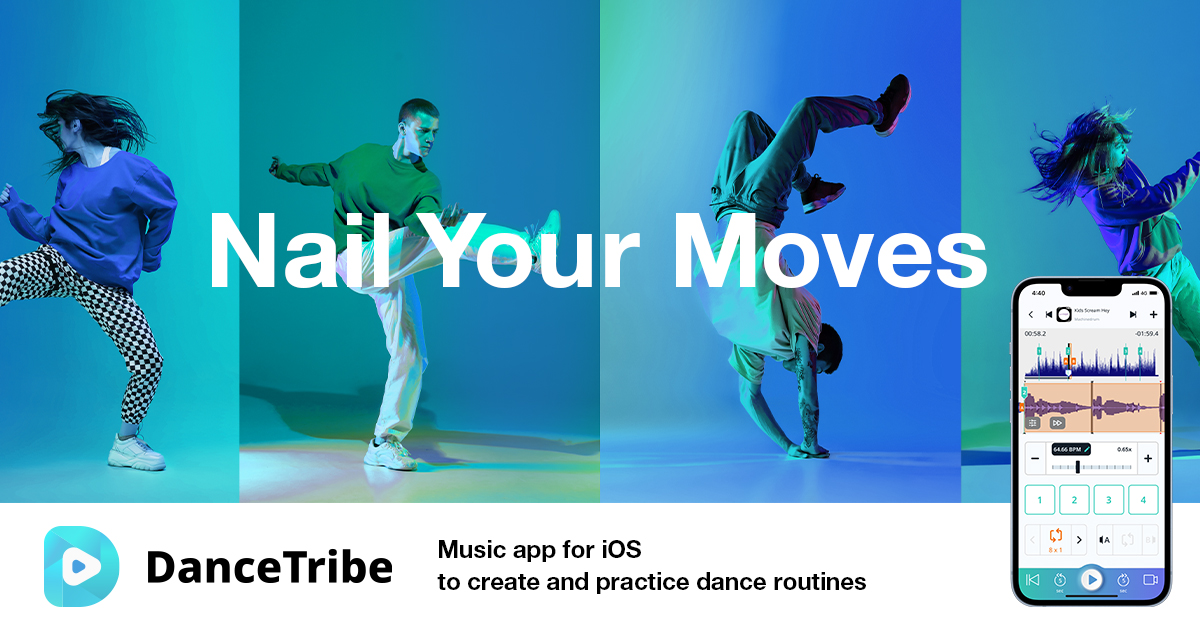 July 18, 2023
Nail Your Moves: DanceTribe brings dance and music together – Innovative new features added to the iPhone app including free music editing tool
AlphaTheta Corporation, which produces the world no. 1 share of DJ equipment sales, announces the release of the free DanceTribe iPhone app ver. 2.0.
With the huge popularity of social networking and the constant increase in health awareness, the needs of dancers to create dance choreography, rehearse efficiently, edit music, and film and share their own performances, continue to change rapidly. AlphaTheta Corporation provides powerful tools for free to help dancers create routines and performances more efficiently to meet these changing needs.
The new Dancer Editor tool in the latest version of DanceTribe offers various intuitive editing functions, making it easy for you to develop songs, adjust their volume, and connect multiple tracks together. And because it's possible to use it one-handed and in portrait mode, you can edit songs in any situation – for example during a train ride.
The popular Dancer Music Player feature enables you to mark and play from your favorite position in a song, repeatedly play a specified section of a song, and change the tempo to make your dance practices smoother. You can also change the playback speed, making the app suitable for a wide range of situations such as rehearsals and performances. And direct integration with Apple Music means you can incorporate your favorite tracks into your practices.
It's easy to simultaneously practice dances and edit music on a single smartphone with the combination of the Dance Editor tool and Dancer Music Player feature in DanceTribe. You can instantly move to the player screen and concentrate on choreography creation and dance practice without exporting the edited music. And, if you want to make additional edits, you can immediately return to the music editing screen whenever you need to. Seamlessly switch between the two functions with the touch of a button for more efficient and higher quality showcases and dance performances.
Want to play the music and record your dance at the same time? No problem – the Instant Rec feature does both tasks simultaneously on the same iPhone. And if you link to the DanceTribe Remote app, you can control various functions, such as start/stop recording, from your Apple Watch.
Driven by its "One Through Music" mission, AlphaTheta strives to provide "surprise and excitement" to customers. With the release of the new features of DanceTribe, the company aims to offer new value to the dance community and further develop music culture. AlphaTheta will continue to focus on developing products and services that meet the needs of dancers and continue to bring innovation to customers' dance lives.
The DanceTribe app can be downloaded free of charge from the App Store.


APPLICATION OVERVIEW
| | |
| --- | --- |
| App name | : DanceTribe |
| Price | : Free |
| Release date | : Out now |
* When using Apple Music, you may use the services and content only for personal, noncommercial purposes.
* Your Apple Watch needs to be within normal Bluetooth range of your iPhone (about 33 feet or 10 meters).
* Disclaimer: Specifications and price are subject to change.
* DanceTribe is a trademark or registered trademark of AlphaTheta Corporation.